When your travels take you to Clearwater Beach in December, there is an abundance of things to do. Whether you want to embrace the beachy activities around the Gulf of Mexico, celebrate the holidays with festive light displays, or discover the beautiful area by taking boat and bike tours, you'll find it in Clearwater.
Knowing what's available throughout the month of December will ensure your time along the Gulf Coast is well spent.
A tour we think you'll love
1) Take A Boat Tour Of Clearwater Beach
While there are many ways to spend your time in Clearwater in December, you should plan on at least one outing on the water. With a boat tour, you'll have the opportunity to go out during the day or even at sunset.
While you're on the water, you can discover the magnificent waterways of Sand Key and beyond, enjoy views of celebrity homes, and even see Bottlenose dolphins splashing around in the wake of the boat.
Although you may assume that December is the wrong time of year for boating, that's not true in Clearwater. It's the perfect time to visit because you're not only outside the Atlantic hurricane season, but you're also able to enjoy some of the cool weather. The average temperature is in the high 60s and low 70s, making it a great time to spend a few hours on the Gulf of Mexico.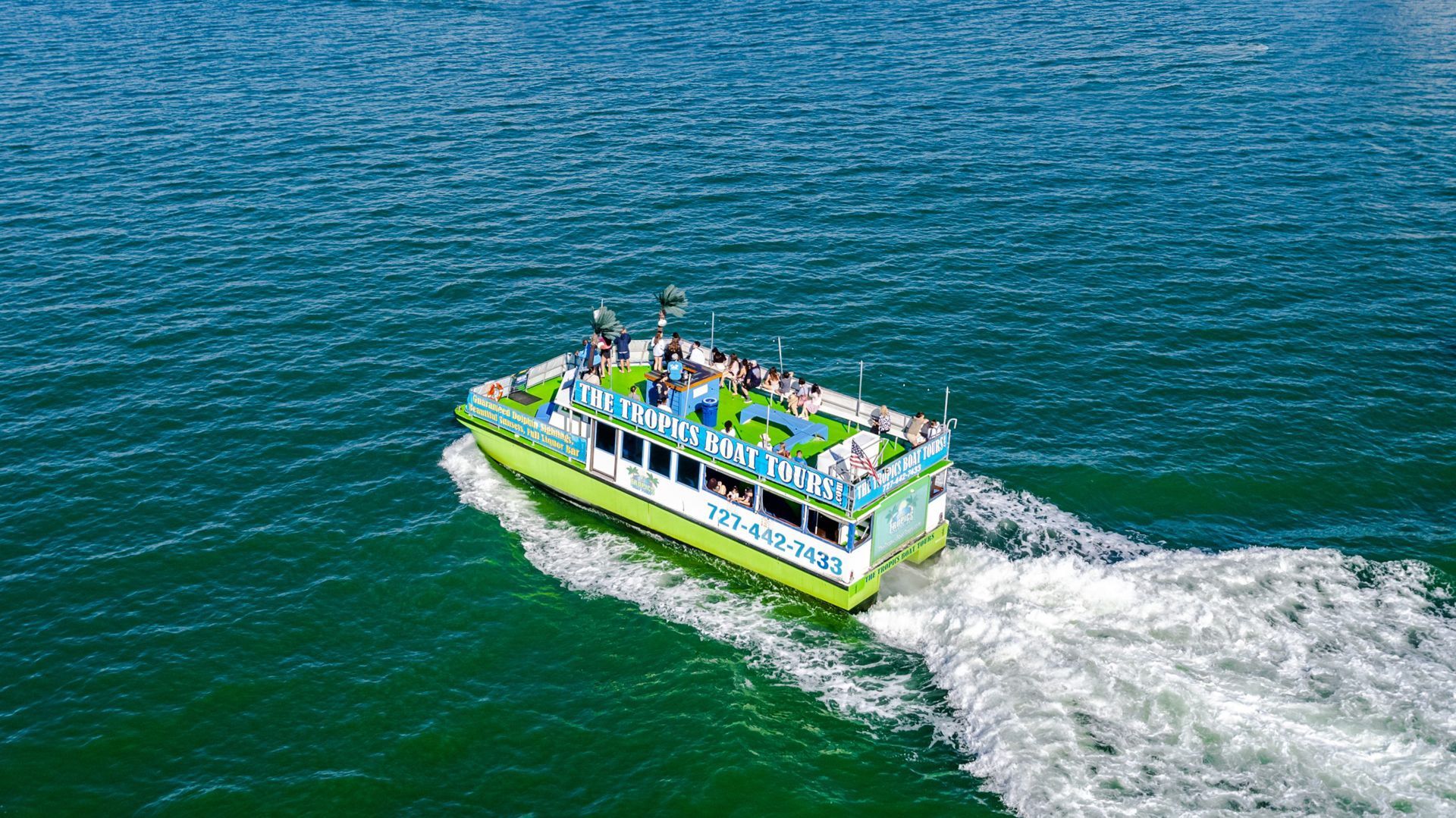 2) Enjoy Some Pier Fishing
Florida is known for its fishing, and Clearwater Beach has plenty of opportunities for you to cast a line.
Pier 60 is one of the top places where you can go, and there's even a bait house that sells bait and fishing tackle.
A few other places to fish are:
Sand Key Park

Indian Rocks Beach

Caladesi Island State Park
If you want a shot at catching grouper or any large fish in Clearwater Beach, you may also want to consider a deep-sea fishing trip. These are offered out of Clearwater Beach as well as Madeira Beach.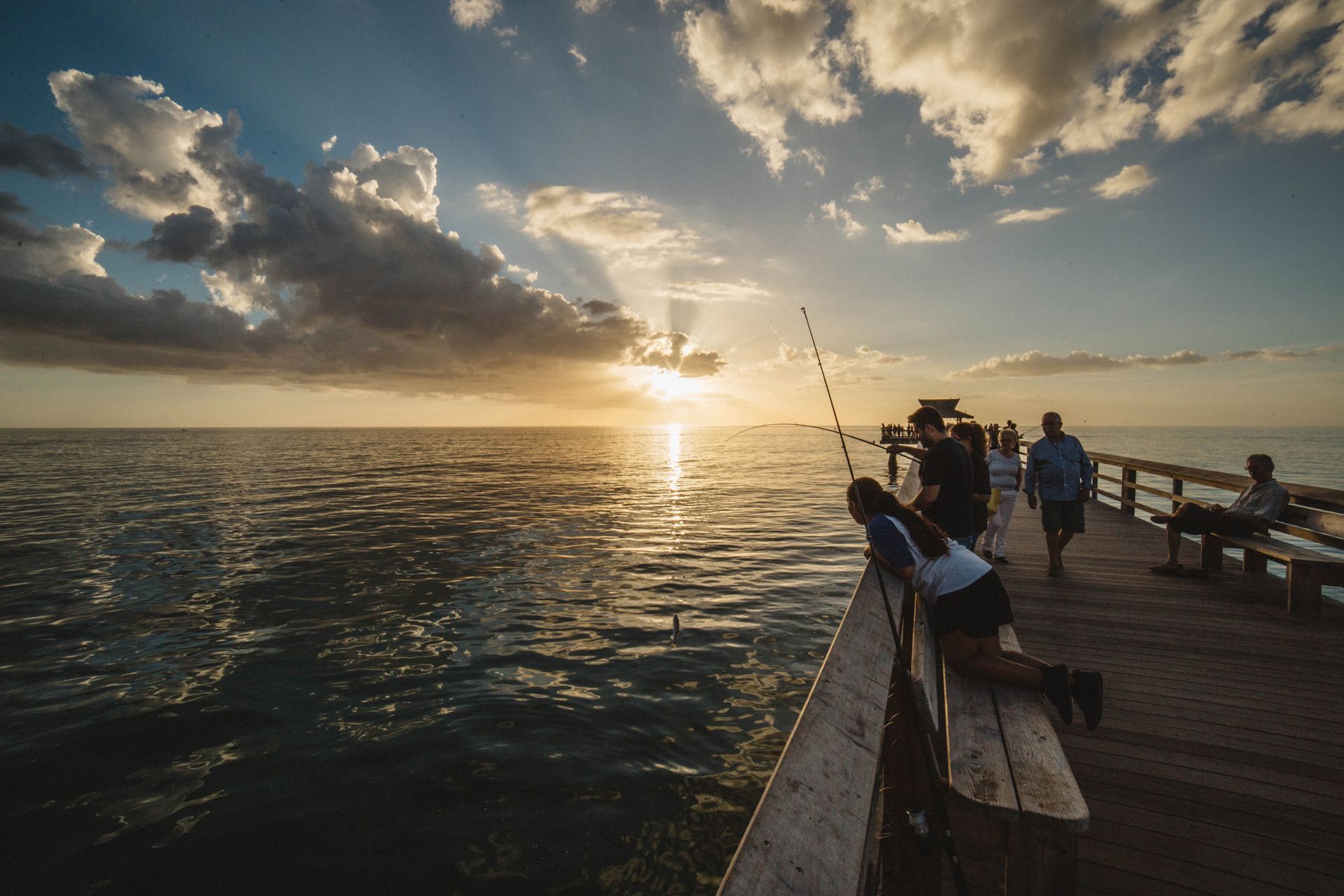 3) Pack A Picnic At Honeymoon Island State Park
Honeymoon Island State Park is a popular place to go during the summer because of the optimal beach weather. The water temperature in December will be chilly, but you can at least walk the shoreline in your bare feet.
Since it's out of peak season, you'll find it easier to explore the three-mile trail and even pack yourself a romantic picnic lunch. If you're going with kids, there are all sorts of activities that kids can participate in.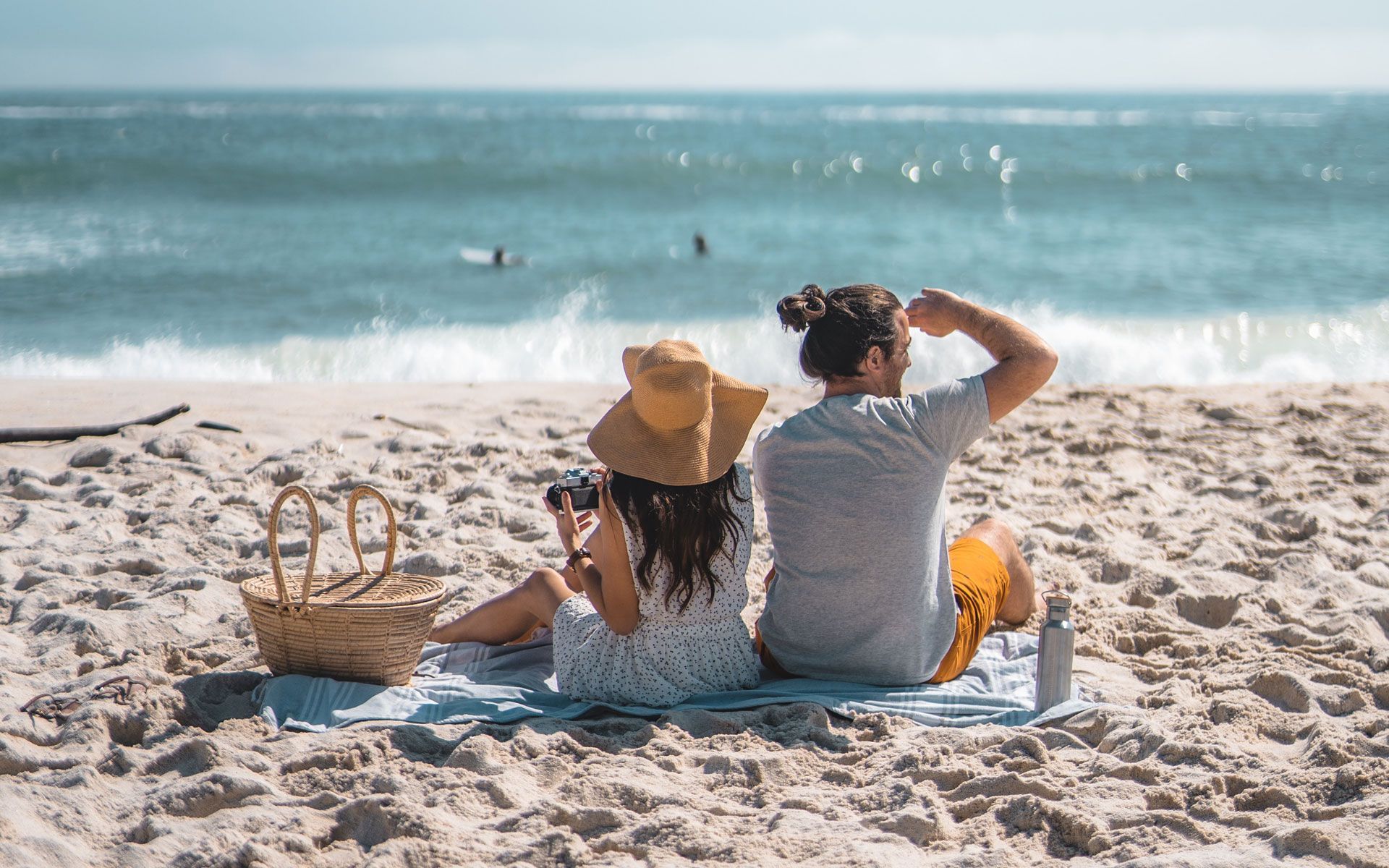 4) Wander Through The Florida Botanical Gardens
The Clearwater beach weather in December makes it the perfect time to spend a bit of time outdoors.
The Florida Botanical Gardens are technically located in Largo, which isn't that far from Clearwater Beach. It's home to 100 acres of breathtaking gardens. Admission is free, and it's pet-friendly.
Depending on when you visit, there's also a "Holiday Lights in the Gardens" event where you'll see over 1 million LED lights throughout the gardens. It's fun for kids and adults alike, and donations are highly encouraged.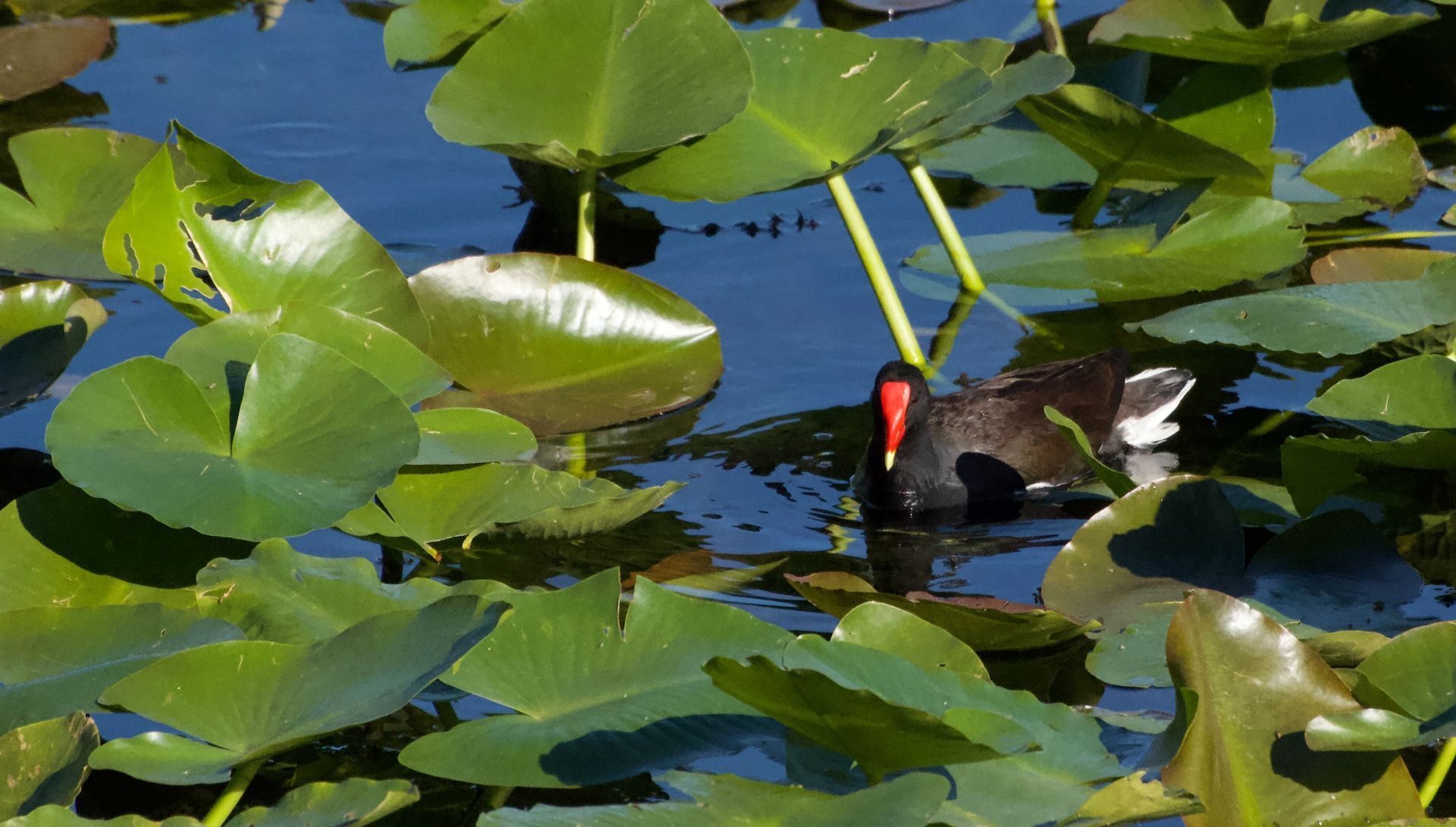 5) Get Into The Holiday Spirit
Clearwater Beach is never in any shortage of holiday events, and you'll find plenty of ways to experience the holidays.
When you are in Clearwater in December, be sure you visit Pier 60. You'll see twinkling lights and be able to see many of the boats decorated for the holiday season, too.
In Largo, there are also holiday lights and rides at Central Park.
Should you want to travel to Tampa, Busch Gardens also has a holiday spectacular that is fun for all ages.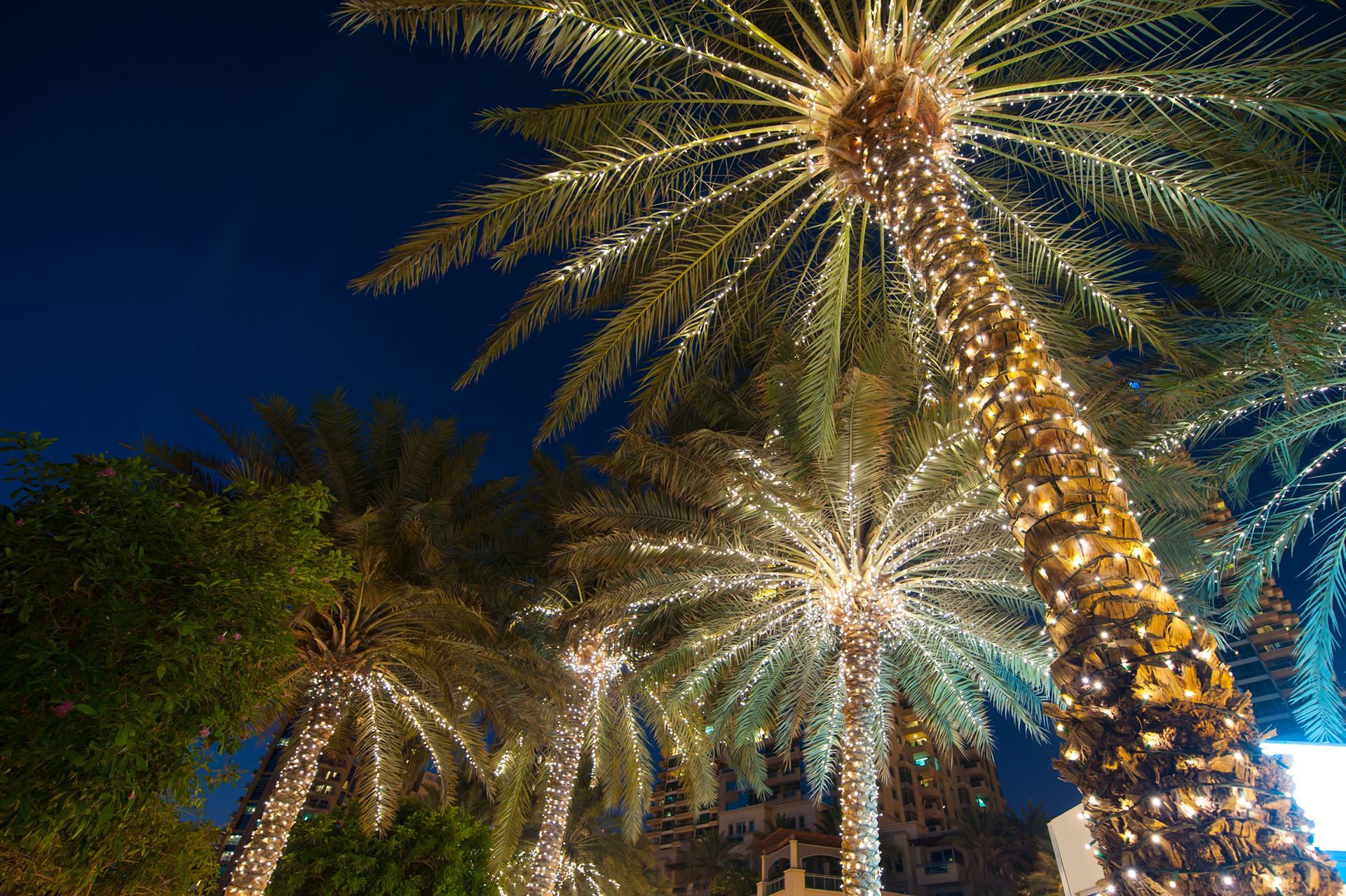 6) Indulge In Fresh Seafood
You'll find some amazing seafood throughout Clearwater Beach. Whether you wander down to Madeira Beach or choose a restaurant in downtown Clearwater, there will be plenty of options to discover.
Favorite items you may want to check out:
Fried grouper

Mahi-Mahi

Fish tacos

Gulf shrimp
Of course, depending on the restaurant, you may also find clams, oysters, crab cakes, and even decadent seafood towers.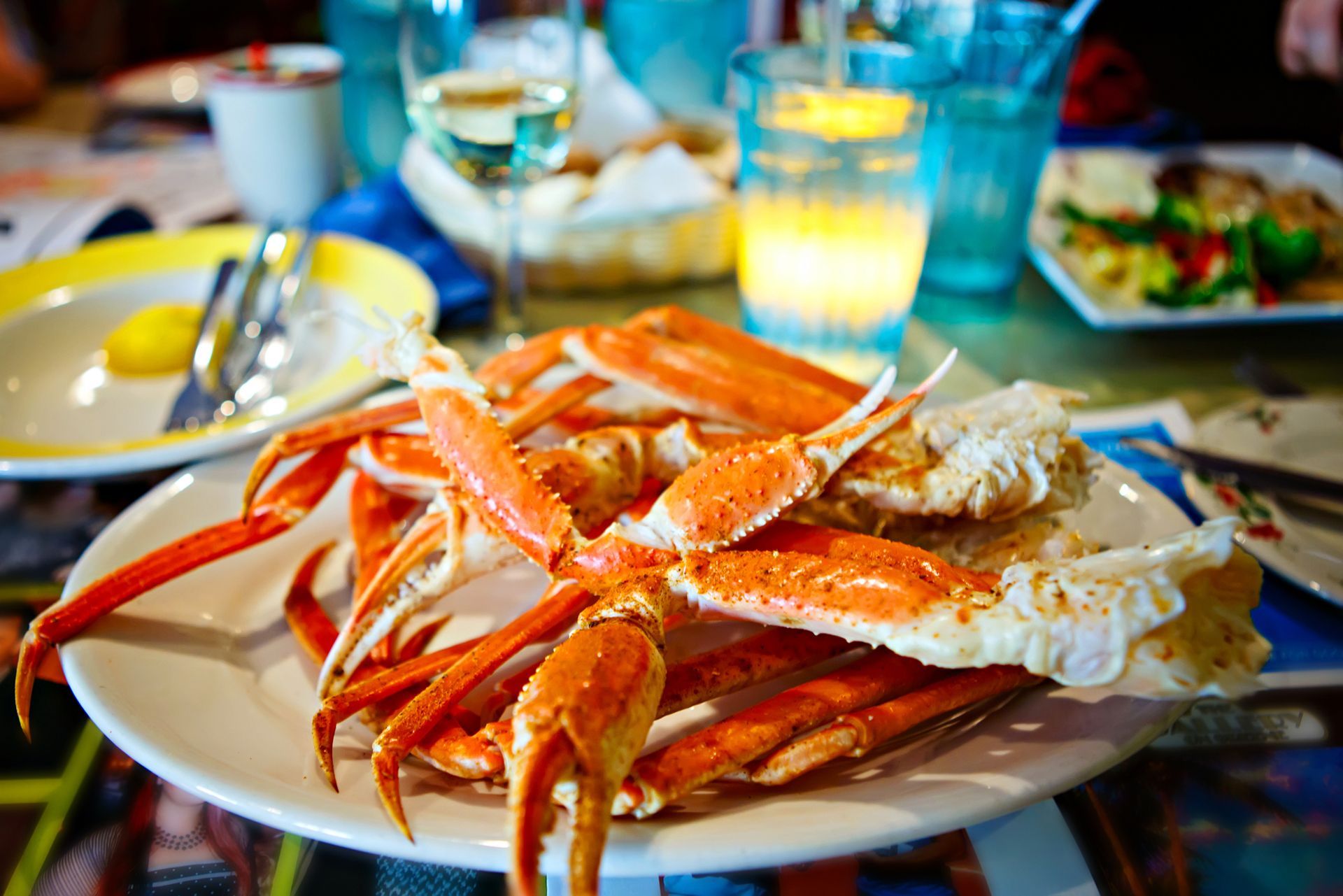 7) Bike Ride Through Coconut Cove
Coconut Cove is a beautiful area where you'll get to see the sand and the water. The cool Clearwater beach weather can be fully enjoyed by bike, allowing you to take in some incredible views.
If you don't have a bike, you can certainly walk the area along the boardwalk, too.
There's also an all-suite hotel here, allowing you to get a room that is centrally located and only about two minutes from Clearwater Beach.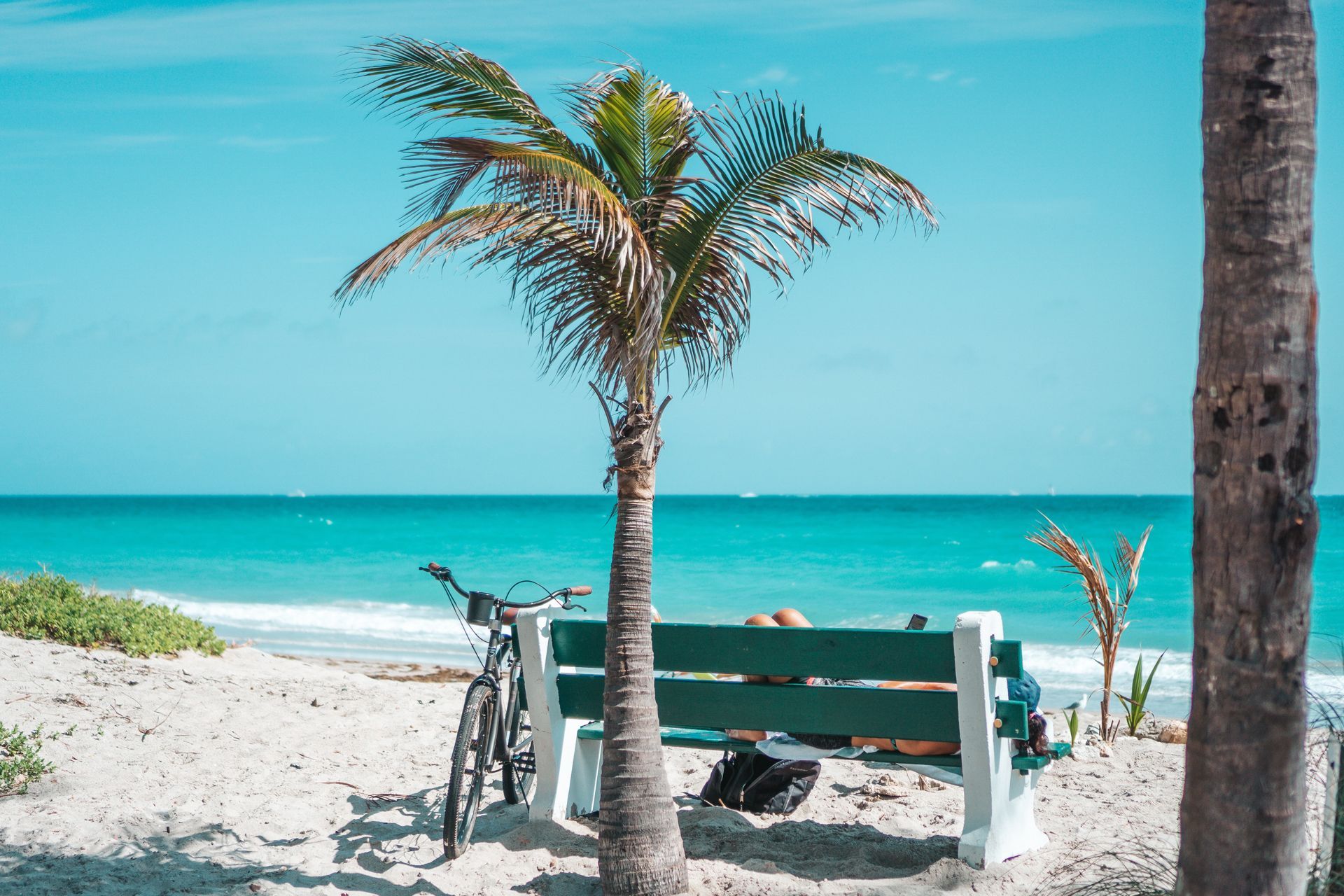 8) Attend Various Holiday Events And Concerts
You're sure to get into the holiday spirit by attending some of the incredible events and concerts available. Clearwater Beach in December offers plenty of ways to spend your days and nights. By choosing to plan ahead and get tickets, you can be sure to celebrate the holidays in a fun and memorable way.
Some of the top events you may want to attend:
Trans-Siberian Orchestra

Christmas Symphonies

Holiday shows

Holiday boat parade
Beyond the big events of Clearwater Beach, you can also walk along Pier 60 at night to see the holiday lights. When you want an activity for the kids, you can even venture beyond Clearwater Beach. St. Petersburg is just a short drive away, providing you with Enchant, a magical display of holiday lights at Tropicana Field.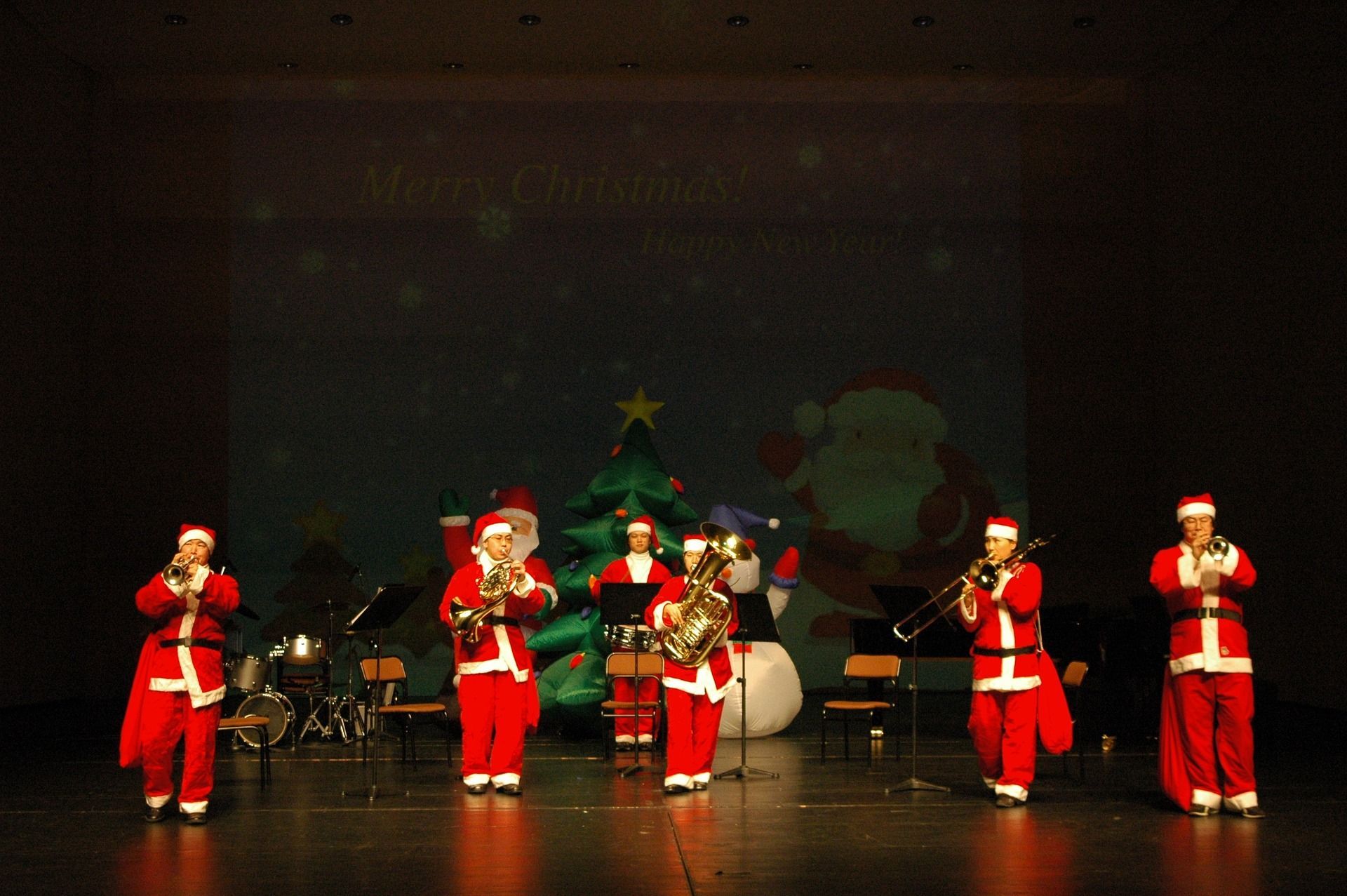 9) Explore Some Of The Family-Friendly Things To Do In Clearwater
When you bring kids to Clearwater Beach with you around the holidays, it's important to show them a great time. While the water temperature may be a bit too cold for them to go swimming, it is still good beach weather. Have them build sandcastles along the shoreline. Discover a few venues that are specifically focused on kids, too.
Clearwater Marine Aquarium
Clearwater Marine Aquarium is home to dolphins as well as many other sea animals that have been rescued, including sting rays and sea turtles. You'll find animal care experiences, guided tours, and more at this venue.
Tip: If your kids love the Clearwater Marine Aquarium, you may also want to make the drive to Tampa to see the Florida Aquarium.

Winter Wonderland
Winter Wonderland is a full Christmas village that gets set up in Clearwater Beach every year. It's not only a charity drive but also a place where kids can get photos with Santa, decorate cookies with Mrs. Claus, and enjoy a cup of hot cocoa.
It takes place through most of December and is located in downtown Clearwater. As you walk through it, you'll find that it truly is a Winter Wonderland.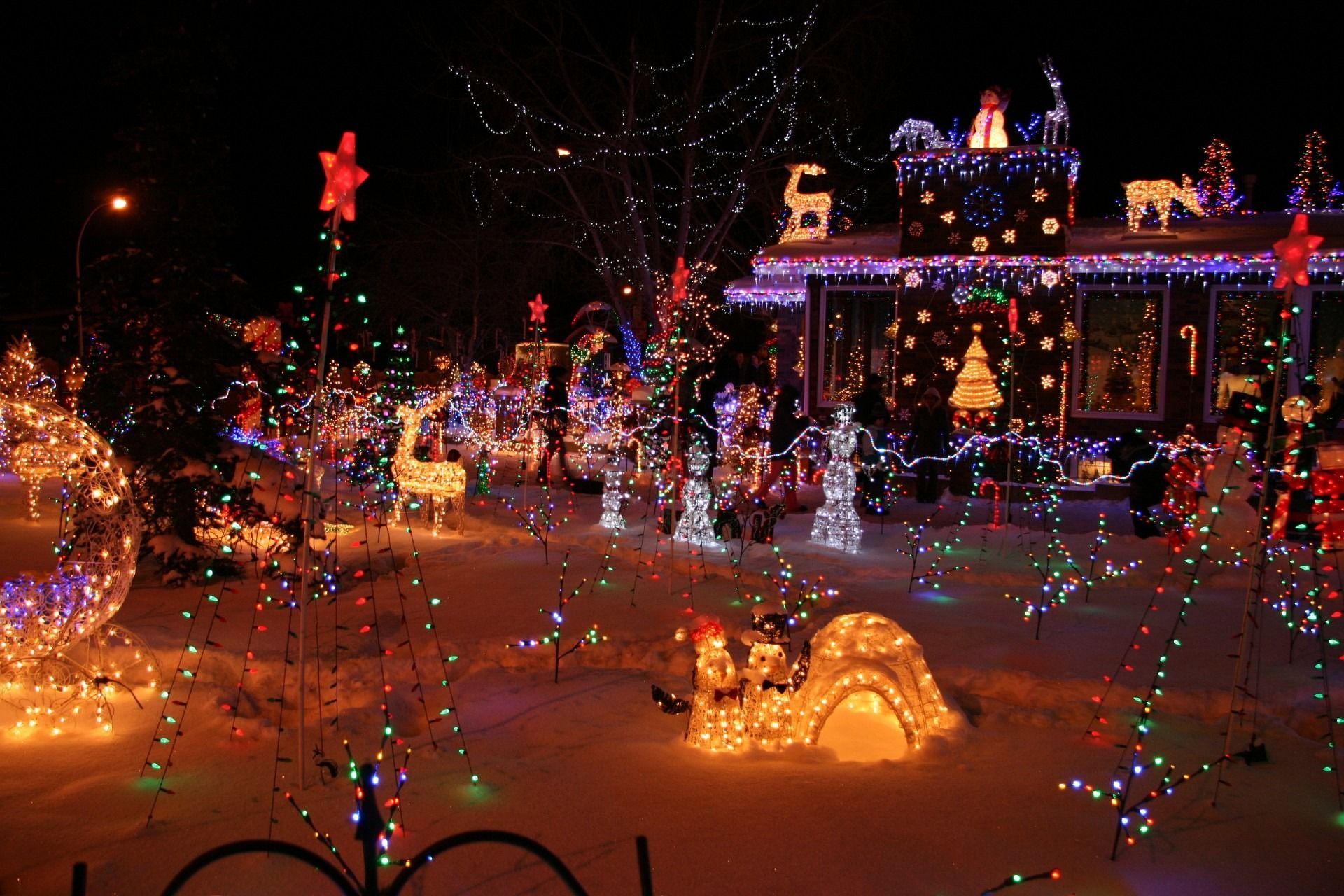 Choose The Best Hotel In Clearwater
With so many things to do in Clearwater Florida in December, where you stay is of the utmost importance. After all, you want to be centrally located to the various venues where you want to spend most of your time, whether that's in Clearwater Beach, Sand Key, or somewhere else. Plus, you'll want a hotel that offers the amenities that work best for you.
Some Clearwater hotels, such as the Clearwater Beach Marriott Suites, are family-friendly. They'll offer all the space you need.
The Hilton Clearwater Beach Resort is family-friendly as well but also has a tiki bar as well as a spa.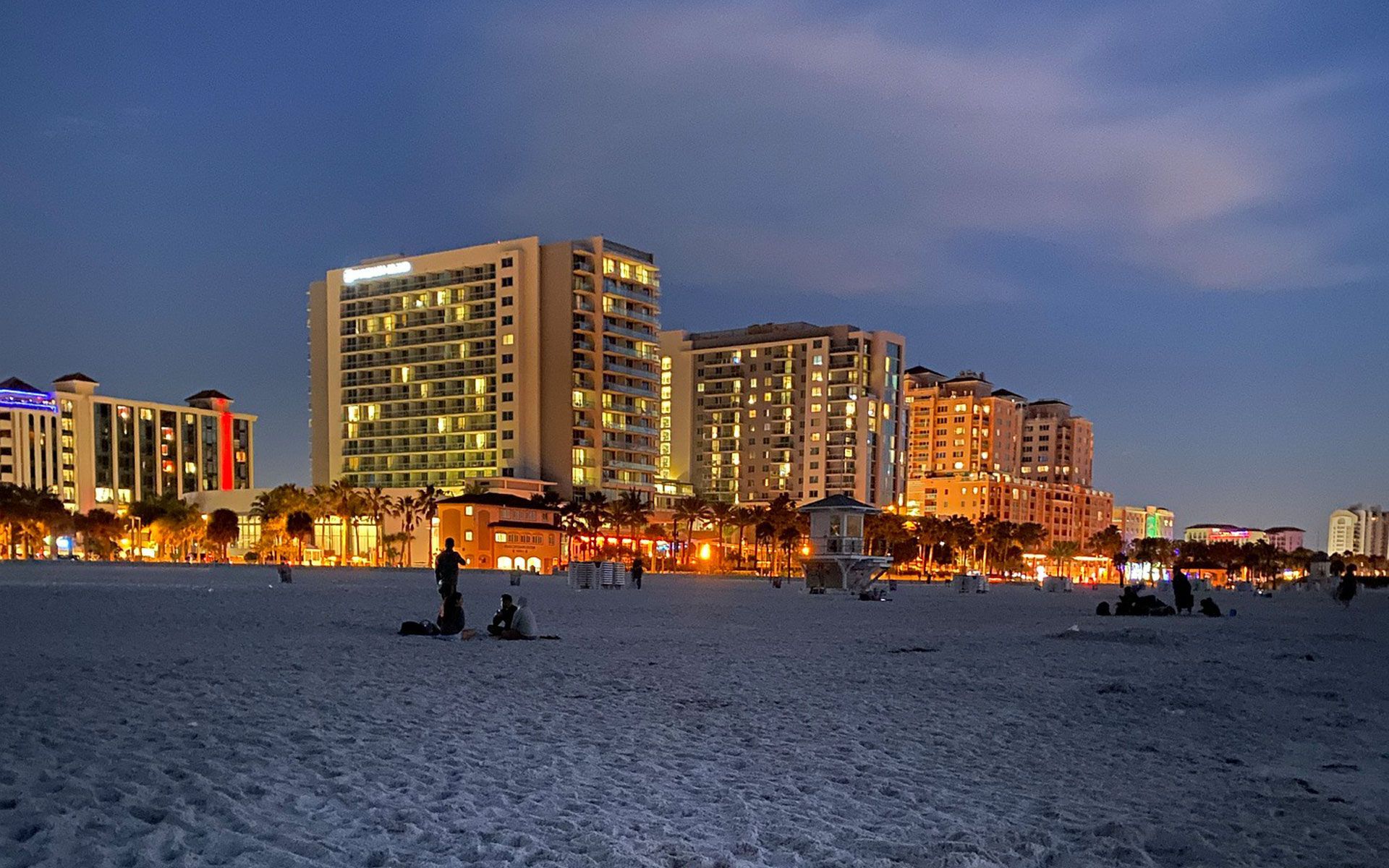 Discover Clearwater In December With Us!
Clearwater in December is actually a better time to visit than for a typical summer vacation. The reason is simple: the weather is cooler. You won't deal with the temperatures reaching 100 and beyond, which means that you can truly explore all of the outdoor attractions that Clearwater Beach has to offer, starting with the water itself.
At The Tropics Boat Tours, we offer an incredible opportunity to spend a few hours on the water. You can explore the Gulf for dolphins that will jump out of the water. You can also sip cocktails as you watch the sunset.
Our cruises are affordable, family-friendly, and fun. Whether you're looking for a tour to take with family or friends, you're in for a great time. We provide narration, music, and even access to a premium bar. It's one of the best ways to make memories when you visit Clearwater Beach.
Discover the various Clearwater Beach cruises that you can book with us now!